Roller blinds provide a timeless style to your space, and with a wide range of fabrics and designs that are made to measure and easy to install, our selection will make the perfect addition to your home. New Style Blinds has a wide selection of roller blinds in gorgeous colours and styles to suit any room, whether you're looking for a neutral design or something more vibrant ​
Roller blinds
Roller Blinds combine style, function and value. They are the most widely used types of window blind in NZ, especially in kitchens and bathrooms.Roller blinds come in a huge range of different practical designs, but our roller blinds are custom made, making certain you get exactly the size blind for your home. Here at New Style Blinds, we offer an incredible range of fabrics and designs to ensure ultimate customer satisfaction. We give our customers the opportunity to search for their ideal window furnishing by choosing the opacity of the fabric. The colour, style and any additional special features they would like.
Blackout roller blinds
If you want to keep out the light at bedtime, our blackout roller blind collection is the perfect solution, helping you get a good night's sleep. Above all, you can rely on the quality of our roller blinds – which is why we're happy to give you a full three-year guarantee on every single order
The two ways you can hang the fabric from the top of your shade
With a standard roll, your fabric will lay flat against your window and raise up onto the top bar from behind when the shade is raised. This may cause the top fabric roll to stick out further from your window, but it also will create better light coverage.​
Your other option is called a reverse roll. With this style, the shade fabric will wrap over the top roll and hang in front of your window like a waterfall. As you might imagine, this will create a bigger light gap, because the fabric isn't technically touching your window, but you'll get a cleaner, designer look. Whichever style you choose, your roller shades will effortlessly glide up and down your window.
Automate internal rollers
Our high-quality AUTOMATE Internal roller range includes mechanical limit, electronic limit and wirefree battery powered motors with ultra-quiet performance for minimal noise.
What is it?: Fabric wraps neatly around a tube at the top of the window.
Great for: All rooms.
Cleaning: Wipe clean with a dry cloth, or wet cloth for water-resistant options.
How it works: Sidewinder to lift and lower, as well as a cordless option.
What else?: Customise your blind with a pull, braid, pole, shaped hem or eyelets.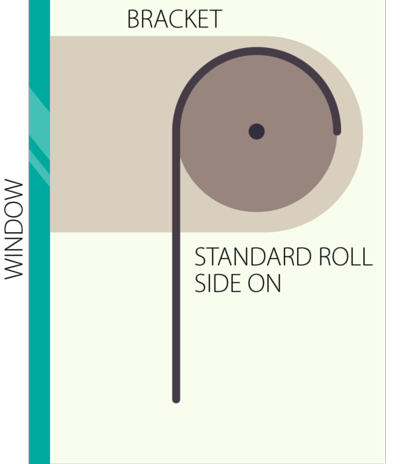 Velux® or roof windows? We've blackout and skylight roof options available.
We've got every room covered with our range of special coatings. Choose from wipe-clean, fire retardant, Teflon and PVC finishes.
Get creative with a choice of white or metallic chains, or go cordless if you preferFAbrics
Photo Credit: Rollease Acmeda